---
Tiger Bill Talk
Huge Drum News Coming!
I've been burning the candle at both ends lately working hard to bring you some super slick Website upgrades that I'm really excited about. When you access the new stuff, I'm sure you'll find your chops will take you anywhere you want to go! It's a unique approach that I know you're gonna dig and I'm getting it off the ground starting next month. So please stay tuned right here for the latest updates. And if you got this link from a friend and you aren't yet on the mailing list, please register today so you can get in on all the cool stuff I've got lined up for you!
Also – and this is really IMPORTANT! – Please email me at info[at]tigerbill.com and let me know whether you are still interested in being on my Newsletter email contact list or not because I'm cleaning up the list to prepare for the cool stuff that's about to be released!
Well, I've still got lots more work to do so I'll let you check out the rest of the Newsletter and I'll see you next month with news of something Big. HUGE!
Have Fun!
---
What DrumHeads Are Saying…
Tiger Bill: A big hello from Canada! I've been a long time user of your site and I think the amount and variety of content that you provide to the drumming public is fantastic!
Thank you so much.
Bill Sass
(Note: Above quote used with permission.)
---
Congrats to the Winners of Last Month's Contest!
And a Huge THANK YOU! to the following companies for donating last month's prizes:
ALFRED PUBLISHING Total Blues Drummer Book-CD by Scot Little Bihlman Book and CD
HUDSON MUSIC Groove Alchemy by Stanton Moore Book and Data Disc
---
Enter Our July Contest for Your Chance to Win Cool, Valuable Prizes!
CLICK HERE for a chance to win Beaten Path Beginning Drumset Level 1 Book and CD by Rich Lackowski, courtesy of Alfred Publishing
Note: You must live in the USA or Canada to be eligible to enter these contests.
---
Featured SOLO SPOTS!
Tiger Bill's Speed Lesson #76: Backsticking Speed Tricks of the Trade – Part One.
Check Out Tiger Bill's Online Drum Shop Featuring Tiger Bill's Concepts of Tension Free Drumming Hand Technique: Volume One DVD and the All New High Quality Best Selling Axis Pedal Yet – A21 Laser Double!
---
Upcoming Drum Clinics, Concerts, and Events!
August 2nd – For those of you on the East Coast!
Tiger Bill with the Vince Martell Band in a Special Performance Never Seen Before at BB Kings in New York City! Opening Act – Spanky and Our Gang! August 2nd Showtime 7:30 PM.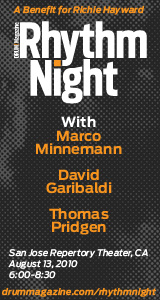 August 13th – For those of you on the West Coast!
Rhythm Night: A Huge Night of Drums featuring David Garibaldi, Thomas Pridgen, and Marco Minnemann. Please do your best to make it to this benefit for Richie Hayward (founding drummer of seminal American roots rock band "Little Feat") who is battling severe liver disease without the aid of health insurance! August 13th Showtime 6 PM.
---
Tiger Bill's Latest Bottom Line Reviews
Check out all of my Drum Product Reviews!
---
Join Us for Some Fun & Educational Drum Talk!
I've got the hottest Forums on the Web and the safest, most educational no-nonsense ones too! My Forums are frequented by the greatest most knowledgeable bunch of DrumHeads on the planet and access is totally FREE, so why not join us for some fun, interesting, and highly educational talk?
Click Here for Your Free Forum Registration and join in the fun today!
DrumHead Central Forum
Click Here for DrumHead Central the forum where you can view or post questions about drummers, drums, drumming, and gear! Check it out by sampling some of our recent topics below.
Stanton Moore! contributed by site member LambChops.
Steve Wonder Kicks the Skins! from site member dlm513.
Drum Gear Review by Forum Members
Click Here for Drum Gear Reviews the forum where you can view or write a review on drum gear that you love or hate!
Drum Dial Review by site member cwdrummer.
ABOUT YOU Forum
Click Here to tell us all about you! The forum where you can post all about your drumming self including videos, photos,and whatever else you'd like to share with our other Forum DrumHeads!
Mallet Percussion Forum
Mallet Percussionists this Forum is for YOU! View or post any questions you have about mallet percussion and our in-house expert James Walker will help you.
Whatever
This is the place to go when you want to blow off some steam! You can talk about anything but drums, but please be nice – sharing your opinions are welcome, flaming is not!
Socialized Medicine Rocks! Join the discussion on this controversial topic, kick off by 777Drum.
---
Hope you enjoyed it but whether you did or not, your comments are always welcome! And don't forget to Stay tuned for the HUGE drum news coming next month!
If you're not a site member yet get on-board now! As a free site member you will receive a monthly email letting you know about the latest newsletter and you'll stay informed of the latest contests, events, and other drumming related topics.
Between monthly newsletters, I blog about various topics of interest to DrumHeads so please bookmark this page and/or subscribe to the RSS Feed. And please leave your comments below!
Until next time:
Stay Well, Stay Loose, and I'll see you online!
Tiger Bill
If you love drums and drumming, don't miss these Websites:
TigerBill.com – For Free Expert Drumming Advice
TensionFreeDrumming.com – For Info on my Tension Free Drumming Concepts
DrummersWishList.com – For the lowest prices on the best gear and lesson books/DVDs/CDs