---
Tiger Bill Talk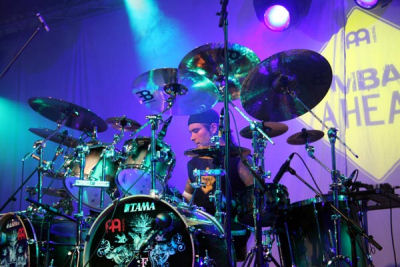 Jason Bittner coming to Tiger Bill's Halloween DrumBeat Fest 2009
This year's Halloween DrumBeat Fest, which is going virtual for the first time, is in full swing and features some of the world's greatest known and up-and-coming drum talent! Our artist lineup includes award-winning drummer Jason Bittner (Shadows Fall), Dr. Sherrie Maricle Ph. D. (DIVA Jazz Orchestra and Five Play), Terry Silverlight (drummer and composer), Bruce Aitken (MIANS Award winning drum educator), Scott Pellegrom (rhythmist, percussionist, instrumentalist, and drum educator extraordinaire), Wes Crawford (master educator), and the incredible 8 year old drum phenom Michael Manasseh. So don't miss it! Purchase your ticket today. All proceeds go to benefit the Michael J. Fox Foundation for Parkinson's Research in memory of my dad, who lost his battle with PD. And don't forget to check out the Online Auction, which is coming Online on October 1st to save a ton of money on the best in drum gear, books, and DVDs, courtesy of our generous sponsors who will be given their proper praise in our October Newsletter.
Tickets to the DrumBeat Fest can be purchased for as little as $10 but if you can swing it, please be generous and donate what you can. If you buy a $50 premium ticket, I will give you a one-hour private drum lesson either in my studio or over the Web and a free year's subscription to my new online Tension Free Drumming Learning Center!
For those of you who live in the area and enjoy Classic Rock, please stop by and say Hey when I perform with the Vince Martell Band on October 23 at 7:30 PM in the Living Room Concert Series at The Record Collector 358 Farnsworth Avenue Bordentown, NJ 08505 – Visit www.the-record-collector.com.
And click the following link for my other live concert appearances coming in October and November.
Also be sure to check out my latest product reviews and play this month's contests for a chance to win a cool, valuable drum book and CD, courtesy of our sponsors Alfred Publishing and Hudson Music. All and more in this issue! And don't forget to drop me an email or leave a comment on this blog, your feedback is always greatly appreciated!
Have fun and stay loose!
---
What DrumHeads Are Saying…
Hi Tigerbill and the staff at Alfred!
Many thanks for choosing me for the free Paul Wertico "Drum Philosophy" DVD from Alfred Publishing. I am enjoying it, as are my teenage sons (also drummers). I may never have the chops of Paul W., but getting inside his head as he figures out how to develop song structure and sounds is immensely valuable!
I appreciate being chosen the winner for this DVD, and I'll recommend your sites to all my drumming and musician friends.
Bill Dorsey
California, USA
(Note: Above quote used with permission.)
---
Congrats to the Winners of Last Month's Contest!
And a Huge THANK YOU! to the following for donating last month's prizes:
ALFRED PUBLISHING Drum Atlas: Jamaica Book and CD
---
Enter Our September Contests for Your Chance to Win These Cool, Valuable Prizes!
CLICK HERE for a chance to win The Commandments of R&B Drumming Play-Along Book and CD Set by Zoro, courtesy of Alfred Publishing
CLICK HERE for a chance to win Delong Way to Polyrhythmic Creativity on the Drumset Book and CD Set by Paul Delong, courtesy of Hudson Music
Note: You must live in the USA or Canada to be eligible to enter these contests.
---
SEE THE LATEST ADDITIONS TO OUR DISCOUNT-PRICED DRUM BOOK, CD & DVD SPECIALS!
Here's your chance to pick up some once in a lifetime special deals on books, CDs, and DVDs for prices as low as 75% off retail price! These are all brand new overstocked items so quantities are limited. One Time Special Sales on DVDs, Books, CDs.
---
Featured SOLO SPOTS!
Tiger Bill's Video Drum Lesson: Comparing Your Speed to Buddy Rich
Don't Miss Tiger Bill in Concert with Vince Martell Band on October 23 at 7:30 PM at The Record Collector in Bordentown, NJ
---
Tiger Bill's Latest Bottom Line Reviews
The Commandments of R&B Drumming Play-Along Book and CD from Alfred Publishing
Delong Way to Polyrhythmic Creativity on the Drumset Book and CD from Hudson Music
---
Join Us for Fun & Educational Drum Talks!
I've got the hottest Forums on the Web and the safest, most educational no-nonsense ones too! My Forums are frequented by the greatest bunch of DrumHeads on the planet and they are totally FREE, so why not join us for some fun and interesting talk?
Click Here for Your Free Forum Registration and join in the fun today!
DrumHead Central Forum
Click Here for DrumHead Central the forum where you can view or post questions about drummers, drums, drumming, and gear! Check it out by sampling some of our recent topics below.
Question for Teachers About Fatigue
Krupa Stick Solo on Upright Bass
Drum Gear Review by Forum Members
Click Here for Drum Gear Reviews the forum where you can view or write a review on drum gear that you love or hate!
ABOUT YOU Forum
Click Here to tell us all about you! The forum where you can post all about your drumming self including videos, photos,and whatever else you'd like to share with our other Forum DrumHeads!
Mallet Percussion Forum
Mallet Percussionists this Forum is for YOU! View or post any questions you have about mallet percussion and our in-house expert James Walker will help you.
Jokes
A Joke A Day Keeps the Doctor Away! If you have some good, clean jokes to share or would like to enjoy some, this is the place to go!
---
Thank You For Taking The Time To Check Out My Newsletter!
If you're already registered as a free site member, you will receive a monthly email letting you know when the latest newsletter is posted to keep you informed of my latest contests and other drumming related topics. If you're not yet a site member but would like to be, simply click to Register For Free!
Between monthly newsletters, I will be blogging regularly about various topics of interest to DrumHeads so please bookmark this page and/or subscribe to the RSS Feed. Your comments, positive or negative, are always welcome.
Until next time:
Take care, have fun, stay loose, and I'll see you online!
Tiger Bill
Please check out these other sites, when you get the chance:
TigerBill.com – For Free Expert Drumming Advice
TensionFreeDrumming.com – For Info on my Tension Free Drumming Concepts
DrummersWishList.com – For the lowest prices on the best gear and lesson books/DVDs/CDs