---
Tiger Bill Talk
[flashvideo file=http://www.tigerbill.com/media/drumdemo09c.flv /]
Tiger Bill in action
I'm sorry to say that we lost Jim Chapin, who passed away on the 4th of July. He would have turned 90 on July 23rd! Jim's first, and most famous work, was his book Advanced Techniques for the Modern Drummer. When he first published it in 1948, most drummers couldn't play it and didn't believe anyone could. So Jim started carrying around a pair of drumsticks everywhere he went to prove it! This now classic book, ahead of its time when first published, is one of the first and most important books any drummer can have to begin their journey into independence. If you're not familiar with this classic guide to 4-way coordination, I strongly suggest that you pick up a copy.
I first met Jim in 1971 at Joe Morello's drum studio when he had released the second volume of his classic work Advanced Techniques for the Modern Drummer subtitled The Open End and it truly was! The book contained a unique system of page overlays that you could use to create literally endless variations of exercises for developing 4-way independence. I still have the original copy that Jim signed for me: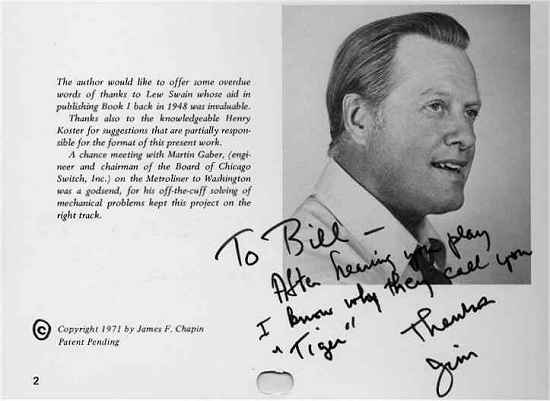 Jim was the sort of Drumhead who never lost the initial love for drumming that he had as a kid. And he never lost the habit of carrying around a pair of drumsticks and a practice pad. Wherever he went, he could be seen giving an impromptu lesson! Even toward the end of his life whenever he picked up a pair of sticks, the years seemed to fade away and he became young again.
Here's a clip of Jim that I took backstage at a major drum event showing Jim doing what he loved best:
[flashvideo file=http://www.tigerbill.com/media/mdfestchapin.flv /]
I have more video of Jim in my archives and will get it online as soon as I can dig it all out! Jim Chapin was a long time friend, a fine drummer, and an excellent teacher. He will be sorely missed. My sincere condolences go out to his family. God Bless you Jim.
On a happier note, it's now official – Uriel Jones and The Funk Brothers will be getting their long overdue star on the Hollywood Walk of Fame! Follow this link for more information.
And what have I been up to over the past month? Well, it seems that my long-time search for the ultimate drumhead is finally over! No, I'm not referring to a drummer but an actual drumhead! I've just discovered Aquarian Super 2 drumheads! Roy Burns sent a set for me to test out on my kit and I liked them so much that I refused to give them back. So he had no choice but to sign me on as an endorser!
I will soon be posting a comprehensive video review on these incredible sounding drumheads so stay tuned. I also dig their Tru-Bounce practice pads that accurately mimic the same feel and sound you get from playing on the edge and center of a real snare drum! Check them out for yourself at the Aquarian Website. And tell them Tiger Bill sent you!
There's lots of other stuff happening but I'm keeping it under wraps for a little bit longer. I can tell you this – there are some huge additions to more than one of my websites coming soon!
For now, please enjoy the rest of the newsletter and don't be shy. Drop me an email or leave a comment on this blog. I'd love to hear from you!
Have fun and stay loose!
---
What DrumHeads Are Saying…
Love your site and your contributions to drumming technique and inspiration! Thanks so much, Bill!
Peace,
Darren Fisher
(Note: Above quote used with permission.)
---
Congrats to the Winners of Last Month's Contest!
And a Huge THANK YOU! to the following sponsors for donating last month's prizes:
ALFRED PUBLISHING Pink Floyd Ultimate Drum Play-Along Book and 2 CD Set
HUDSON MUSIC Lessons: Breaking the Code DVD and eBook by David Garibaldi
WEST VIRGINIA WOOD ARTS Custom Engraved DrumSticks Personalized with the Winner's name and the Tiger Bill Logo
---
Enter Two July Contests for Your Chance to Win One of These Cool, Valuable Prizes!
CLICK HERE for a chance to win Todd Sucherman Methods & Mechanics DVD, courtesy of Alfred Publishing
CLICK HERE for a chance to win The Best of The Modern Drummer Festival 1997-2006DVD, courtesy of Hudson Music
Note: You must live in the USA or Canada to be eligible to enter these contests.
---
HERE'S THE LATEST ADDITIONS TO OUR HALF-PRICED DRUM BOOK & DVD SPECIALS!
Here's your chance to pick up some once in a lifetime special deals on books, CDs, and DVDs for half-price and even less! These are all brand new overstocked items so quantities are limited. One Time Special Sales on DVDs, Books, CDs.
---
Featured SOLO SPOTS!
Tiger Bill's Video Drum Lesson: A Buddy Rich Favorite Sticking Pattern: Part 1
---
Tiger Bill's Latest Bottom Line Reviews
Todd Sucherman: Methods & Mechanics DVD from Alfred Publishing
Best of Modern Drummer Festival 1997-2006 2 DVD Set
---
Join Us for Fun & Educational Drum Talks!
I've got the hottest Forums on the Web and the safest, most educational no-nonsense ones too! My Forums are frequented by the greatest bunch of DrumHeads on the planet and they are totally FREE, so why not join us for some fun and interesting talk?
Click Here for Your Free Forum Registration and join in the fun today!
DrumHead Central Forum
Click Here for DrumHead Central the forum where you can view or post questions about drummers, drums, drumming, and gear! Check it out by sampling some of our recent topics below.
Sticks What do you prefer, Nylon or Wood Tips?
Welcome Back Long Time Site Member: Popeye!
Welcome Back Long Time Site Member: A B!
Drum Gear Review by Forum Members
Click Here for Drum Gear Reviews the forum where you can view or write a review on drum gear that you love or hate!
PDP Drums. What do you think of them?
ABOUT YOU Forum
Click Here to tell us all about you! The forum where you can post all about your drumming self including videos, photos,and whatever else you'd like to share with our other Forum DrumHeads!
Mallet Percussion Forum
Mallet Percussionists this Forum is for YOU! View or post any questions you have about mallet percussion and our in-house expert James Walker will help you.
Jokes
A Joke A Day Keeps the Doctor Away! If you have some good, clean jokes to share or would like to enjoy some, this is the place to go!
---
Thanks For Taking The Time To Check Out My Newsletter!
If you're already registered as a free site member, you will receive a monthly email letting you know when the latest newsletter is posted to keep you informed of my latest contests and other drumming related topics. If you're not yet a site member but would like to be, simply click to Register For Free!
Between monthly newsletters, I will be blogging regularly about various topics of interest to DrumHeads so please bookmark this page and/or subscribe to the RSS Feed. Your comments, positive or negative, are always welcome.
Until next time:
Take care, have fun, stay loose, and I'll see you online!
Tiger Bill
Please check out these other sites, when you get the chance:
TigerBill.com – For Free Expert Drumming Advice
TensionFreeDrumming.com – For Info on my Tension Free Drumming Concepts
DrummersWishList.com – For the lowest prices on the best gear and lesson books/DVDs/CDs