Tiger Bill Talk
Check this out…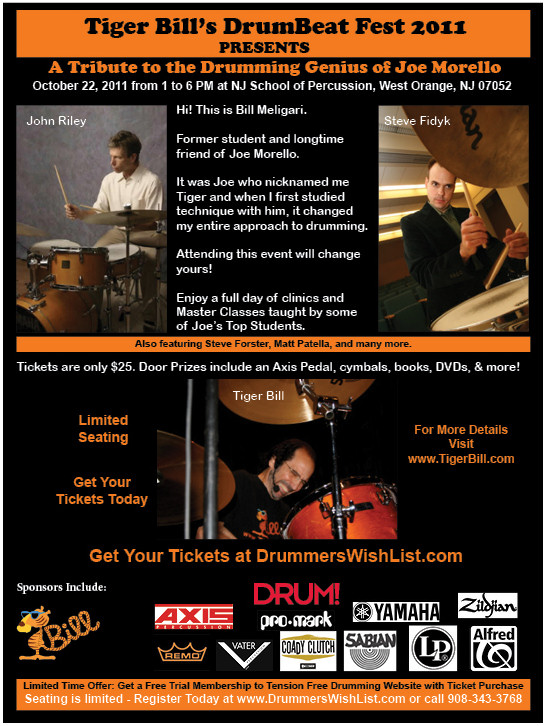 Enjoy a full day of clinics and masterclasses at DrumBeat Fest 2011 – Tribute to Joe Morello. This is a unique opportunity for you to pick up on some of the great techniques of Joe Morello from his top students featuring John Riley and Steve Fidyk and others.
This is one event you won't want to miss! The Drum Fest takes place on October 22nd, 2011 from 1 to 6 PM at the New Jersey School of Percussion in West Orange, NJ 07052. And thanks to our heavy-duty sponsors you'll have the chance to win lots of cool stuff like bass drum pedals, cymbals, Coady Clutch, books, DVD, and lots more.
The bad news is that you missed the live event… The good news is that you can watch nearly 3 hours of footage from that event instantly online for a mere $5.00. Just follow this link.
And I hope you're recording your video clip so you can join us in our online Tribute to Joe Morello, there's still time… but not much! You only have until September 30th to email me your video. Check out the video below of my 10 year old student Michael Manasseh who is demonstrating what you need to do:
Click here to Download this MP3 music track to play along with and I'll include you on our Online Video Tribute to Joe Morello!
If you can't make it to the live event but don't want to miss all the fun, Get your ticket to the Online DrumBeat Fest 2011-Tribute to Joe Morello and experience it from anywhere in the world.
I hope to receive your performance for our Video Tribute in time to include you – and I hope to see you at DrumBeat Fest 2011-Tribute to Joe!
Oh, and I almost forgot! You've been asking for it and now I'm going to do it! I'm bringing my Fun With Drums TV Show to the Web so you will be able to enjoy it anywhere there is a computer and an Internet connection!
Have fun, enjoy the rest of the newsletter, and stay loose!
Tiger Bill
---
What DrumHeads Are Saying…
Bill,
It was six years ago when we last conversed. My wife had just died and in
order to survive, I took up drumming again after a lapse of fifty years at the age of eighty one. I'm now playing with a sixteen piece swing band at the age of eighty seven and enjoying it immensely. Just shows what can be done if you are prepared to go for it.I enjoy your site but wish you could put on some articles on swing drumming and syncopation especially in relation to Big Band Drumming a la Buddy Rich.
Best Wishes Bill and looking forward to your new site.
Pip (Albert Parsons)
(Note: Above quote used with permission.)
---
Congrats to the Winners of Last Month's Contests!
And a Huge THANK YOU! to the following companies for donating last month's prizes:
ALFRED PUBLISHING Play Cajon Now by Richie Gajate Garcia DVD
HUDSON MUSIC Gospel R&B Drumming DVD
---
Enter Our August Contest for Your Chance to Win these Cool, Valuable Prizes!
CLICK HERE for a chance to win: Joe McCarthy's Afro-Cuban Big Band Play-Along DVD, courtesy of Alfred Publishing
Note: You must live in the USA or Canada to be eligible to enter these contests.
---
Featured SOLO SPOTS!
Developing Faster Feet with Flams. The re-presentation of my Speed Lessons at DRUM! Magazine continues with Lesson #6. Enjoy the all-new Video and additional drills and tips that expand on the original lessons. Have fun!
Click here to take your drumming to the next level and Save $30.00 when you purchase Tiger Bill's Tension Free Drumming Hand Technique DVD-Set.
---
Tiger Bill's Latest Bottom Line Reviews
Joe McCarthy's Afro-Cuban Big Band Play-Along DVD
---
Join Us for Some Fun & Educational Drum Talk!
Tiger Bill has the hottest Forums on the Web and the safest, most educational no-nonsense ones too! These Forums are frequented by the greatest most knowledgeable bunch of DrumHeads on the planet and access is totally FREE, so why not join us for some fun, interesting, and highly educational talk?
Click Here for Your Free Forum Registration and join in the fun today!
DrumHead Central Forum
Click Here for DrumHead Central the forum where you can view or post questions about drummers, drums, drumming, and gear! Check it out by sampling some of our recent topics below.
Recording My Percussion Lessons? from forum member norskdrum.
Drum Gear Review by Forum Members
Click Here for Drum Gear Reviews the forum where you can view or write a review on drum gear that you love or hate!
Korg WaveDrum Anyone? from forum member magicre.
ABOUT YOU Forum
Click Here to tell us all about you! The forum where you can post all about your drumming self including videos, photos,and whatever else you'd like to share with our other Forum DrumHeads!
Mallet Percussion Forum
Mallet Percussionists this Forum is for YOU! View or post any questions you have about mallet percussion and our in-house expert James Walker will help you.
Whatever
This is the place to go when you want to blow off some steam! You can talk about anything but drums, but please be nice – sharing your opinions are welcome, flaming is not!
---
Before you split, please post a comment below and let me know what you think about this month's newsletter. And thanks so much for your time!
If you're not a site member yet click here to get on-board now! As a free site member you will receive a monthly email letting you know about the latest newsletter and you'll stay informed of the latest contests, events, and other drumming related topics.
Between monthly newsletters, I blog about various topics of interest to DrumHeads so please bookmark this page and/or subscribe to the RSS Feed.
Until next time:
Have Fun, Stay Well, Stay Loose, and I'll see you online!
And don't forget to leave my your comment below. Thanks!
Tiger Bill
If you love drums and drumming, you won't want to miss these other Websites:
TigerBill.com – For Free Expert Drumming Advice
TensionFreeDrumming.com – Visit site today and register for access to the All-New Site that is coming soon!
DrummersWishList.com – For the lowest prices on the best drum gear, Internet Lessons with Tiger Bill and Tension Free Drumming DVDs.