---
Tiger Bill Talk
[flashvideo file=http://www.tigerbill.com/media/drumdemo09b.flv /]
Tiger Bill in action
Happy June! Lots of cool things happening this month starting with my Drum Clinic at Sam Ash in Edison, NJ on June 18th from 7 to 9 PM. I hope you can make it. I guarantee we'll have lots of fun, learn some cool stuff, and there will be lots of great door prizes too. So I hope to see you there!
The other big news this month is that my Private Web Drum Lessons are officially available for anyone who is interested in taking a one-on-one drum lesson with me. Follow this link for more information.
Please welcome a new contest sponsor on-board West Virginia Wood Arts and check out the cool prize they donated this month! The image below shows the cool custom drumsticks they engraved for me. Now you can have a pair just like them including the Tiger Bill Logo but personalized with your name beautifully engraved! I don't know any drummer who wouldn't love to own a pair of these. Check them out in this newsletter and be sure to join their contest this month for your chance to win!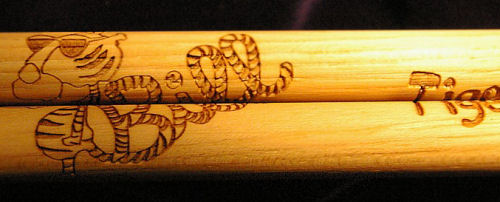 Click for your chance to win these personalized custom engraved Drumsticks!
Last month a full-length CD was released by up and coming artist Elisa Girlando and her band Out Of Truth. I'm proud to say that my very first drum student is playing drums with the band and can be heard on the debut album. Click here for some video clips taken at a live performance!
The artist roster for my up and coming DrumBeat Festival 2009 is shaping up nicely so stay tuned for more information in the very near future!
Now please enjoy the rest of the newsletter, have fun, and stay loose!
---
What DrumHeads Are Saying…
Subject: Hey Tiger
I received my order of your 'Tension Free Drumming' yesterday afternoon without any issues. I have just finished watching the DVD and I must say that us drummers are definitely privileged to have such an informative DVD on the market… some of us might never be able to take lessons with you, and because you have graciously documented your methods in a very easy to understand DVD, we will all be able to learn the techniques that have made you, in my opinion, the ultimate 'finesse' drummer.
I am an intermediate drummer, and I am constantly in search of total freedom and control on the drum set. I would describe my current technique to be considerably 'tension free', but after watching your DVD, I have learned additional methods and concepts that will only take my current level to a higher place.. I really can't wait to get started! After 7 years of playing and a busy gigging schedule, I started to feel uninspired to practice sometime early this year. Thank you for igniting that inspiration to practice again, I really needed it!
Please let me know when Volume II is released… I would like to purchase it as soon as it is available! Also, I am very interested in improving my foot technique with your methods. Please don't make us drummers wait too long for your DVD on foot technique to be out!
Thank you again for being such a wonderful teacher…. for sharing your methods, and also for the excellent customer service.
Have a great day!
A.P.
(Note: Above quote used with permission.)
---
Congrats to the Winners of Last Month's Contest!
And a Huge THANK YOU! to the following sponsors for donating last month's prizes:
ALFRED PUBLISHING RUSH 2112 Drum Transcription Book
HUDSON MUSIC Modern Drummer Festival 2008 4-DVD Set
---
Enter Three June Contests for Your Chance to Win One of These Cool, Valuable Prizes!
CLICK HERE for a chance to win Pink Floyd: Ultimate Drum Play-Along Book with 2 CDs, courtesy of Alfred Publishing
CLICK HERE for a chance to win Lessons: Breaking the Code by David Garibaldi, courtesy of Hudson Music
CLICK HERE for a chance to win Your Own Personalized Custom Engraved Drumsticks, courtesy of West Virginia Wood Arts
Note: You must live in the USA or Canada to be eligible to enter these contests.
---
MORE HALF-OFF DRUM SPECIALS!
Here's your chance to pick up some once in a lifetime special deals on books, CDs, and DVDs for half-price and less! These are all brand new overstocked items and quantities are limited. One Time Special Sales on DVDs, Books, CDs.
---
Featured SOLO SPOTS!
Sam Ash Edison NJ FREE Drum Clinic on JUNE 18th from 7 to 9 PM: Tiger Bill's Tension Free Drumming Techniques. Join me for lots of fun, hands-on instruction in Tension Free Techniques, and valuable door prizes!
Tiger Bill's Video Drum Lesson: Increase Your Speed Around the Drums: Part 6
Red Bank Jazz & Blues Festival on June 6 and 7 Many thanks to our good friend drumhead Bleu Ocean for reminding me about this cool Fest. If you can't make it down to the Jersey shore to see it in person, you can enjoy it streamed Live over the Internet – Free of charge – thanks to Fest sponsor Gary Baumgarten of Paltalk.com! Check it out.
---
Tiger Bill's Latest Bottom Line Reviews
PINK FLOYD: Drum Play-Along Transcripts Book with 2 CDs from Alfred Publishing
Lessons: Breaking the Code by David Garibaldi DVD with eBook
---
Join Us for Fun & Educational Drum Talks!
I've got the hottest Forums on the Web and the safest, most educational no-nonsense ones too! My Forums are frequented by the greatest bunch of DrumHeads on the planet and they are totally FREE, so why not join us for some fun and interesting talk?
Click Here for Your Free Forum Registration and join in the fun today!
DrumHead Central Forum
Click Here for DrumHead Central the forum where you can view or post questions about drummers, drums, drumming, and gear! Check it out by sampling some of our recent topics below.
BPM Question If you've ever wondered exactly how metronome tempo correlates to tempo markings, check this out.
Multiple Foot Pedals. What's your setup?
Drum Gear Review by Forum Members
Click Here for Drum Gear Reviews the forum where you can view or write a review on drum gear that you love or hate!
Beatnik Rhythmic Analyzers. If you have one, give us your opinion.
ABOUT YOU Forum
Click Here to tell us all about you! The forum where you can post all about your drumming self including videos, photos,and whatever else you'd like to share with our other Forum DrumHeads!
Mallet Percussion Forum
Mallet Percussionists this Forum is for YOU! View or post any questions you have about mallet percussion and our in-house expert James Walker will help you.
---
Thanks For Taking The Time To Check Out My Newsletter!
If you're already registered as a free site member, you will receive a monthly email letting you know when the latest newsletter is posted to keep you informed of my latest contests and other drumming related topics. If you're not yet a site member but would like to be, simply click to Register For Free!
Between monthly newsletters, I will be blogging regularly about various topics of interest to DrumHeads so please bookmark this page and/or subscribe to the RSS Feed. Your comments, positive or negative, are always welcome.
Until next time:
Take care, have fun, stay loose, and I'll see you online!
Tiger Bill
Please check out these other sites, when you get the chance:
TigerBill.com – For Free Expert Drumming Advice
TensionFreeDrumming.com – For Info on my Tension Free Drumming Concepts
DrummersWishList.com – For the lowest prices on the best gear and lesson books/DVDs/CDs